An intro to Spoonflower.com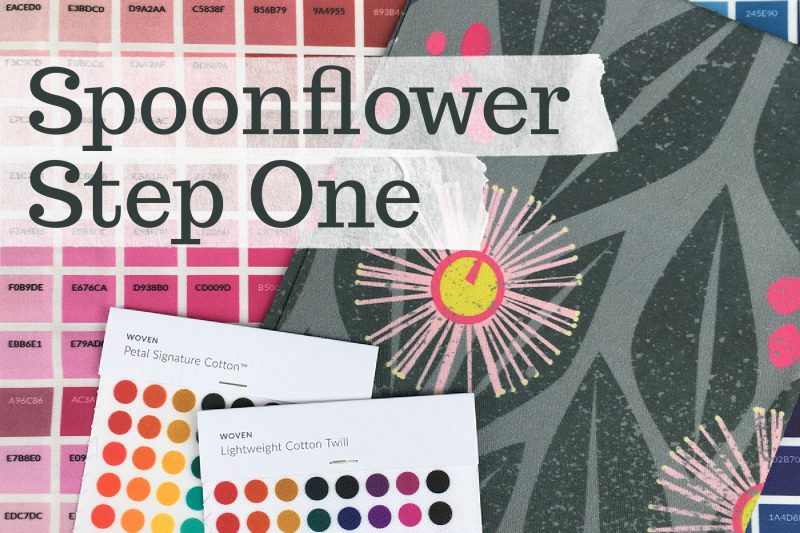 According to Spoonflower's website:
Spoonflower was founded in May 2008 by two Internet geeks, Gart Davis and Stephen Fraser, whose creative wives asked why there wasn't anywhere to design custom fabric for their home décor. The first company of its kind, Spoonflower was launched in Durham, N.C., on that dream of empowering the individual to create on-demand, custom-designed textiles.
Eight years later, the Spoonflower community has grown to over 3.5 million individuals who use their own designs and our Marketplace to make curtains, quilts, clothes, bags, furniture, dolls, pillows, framed artwork, costumes, banners and much, much more. Spoonflower's digital print process uses eco-friendly, water-based pigment inks and dyes which produce very little waste. And with over 500,000 designs (plus more added every day), the Spoonflower Marketplace is the largest collection of independent designers in the world.
I ordered my first fabric from Spoonflower in June 2008. That's it, pictured below. Spoonflower has grown from one printer and one fabric variety to an entire building full of printers and more than 20 different fabrics and papers that you can print on. Spoonflower changed my life and opened up a whole new art form to me. I'm a pretty big fan. I didn't go to school to study fashion or fabric design and you don't have to either. Anyone can design anything they want to.
Just a little note: I teach this class because I love Spoonflower and I want to help people get past the learning curve to be able to make their own fabrics. I don't work for Spoonflower, although we did write a book together several years ago. Also, please note that there are no affiliate links on my website or in any of my classes. I do not get commissions, discounts, kickbacks, or any special consideration for any of the apps, websites, services, products or books that I discuss, teach about, link to or recommend in classes.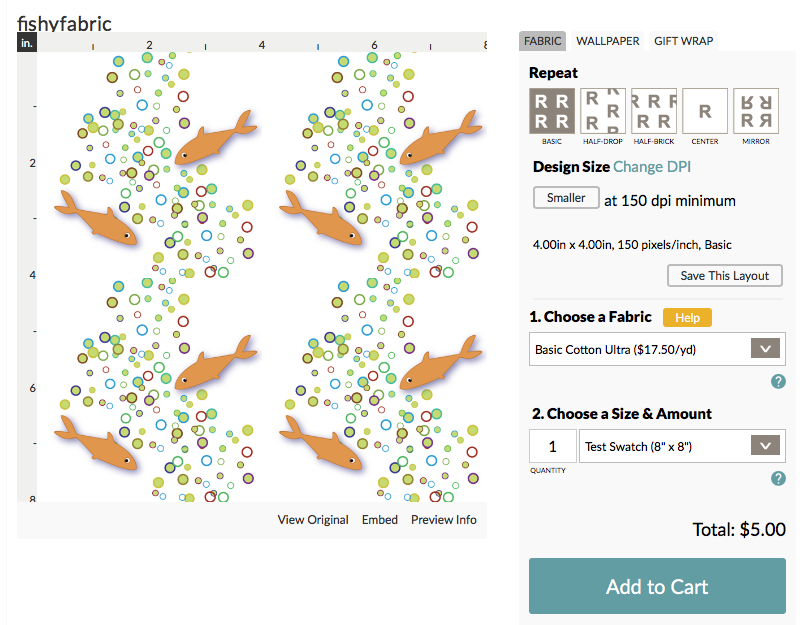 How does it work?
Designing fabrics and wallpaper at Spoonflower works like this:
Design something. You can use many different methods to get your design made. Scan some paint chips, paint a watercolor or make something using graphics software. As long as you can make a .jpg with your idea, you can use it as a design.
Upload it and choose some design options. You'll have a Design Library at Spoonflower where your public and private designs are saved. You can go back to your Design Library to order, edit the repeat style or scale of a design.
Pick a fabric base and a size. You can print as small as 8x8 inches of each design or you can get many yards of each one. Fabrics that you can print on include gauze, poplin, canvas, minky, recycled canvas and more. There are also three kinds of wallpaper, too.
Get your fabric in the mail and show it to everyone you know. (You will want to show it off.)
Once you have proofed a design by ordering a sample, you can also make it for sale. That means anyone shopping on the Spoonflower Marketplace can buy fabric with your design on it, and just like that: you are a fabric designer.
What's the Spoonflower Marketplace? That's the part of the site where you can find all of the designs that you and other designers have made for sale. You earn a 10% commission on any of your designs that someone buys and Spoonflower takes care of printing and shipping the order.
If you don't want to sell your work, that's totally ok. Everything you upload is private by default and you retain the copyright. I have many designs that are available in the Marketplace for anyone to purchase, but I have twenty times that many designs that I don't make available for sale. Some are personal projects. I have some others that I only print and make into finished objects, which I then sell through Etsy or at art shows. You can also make designs public, but not for sale, so you can use it like an online portfolio of your work. How you use it is completely up to you.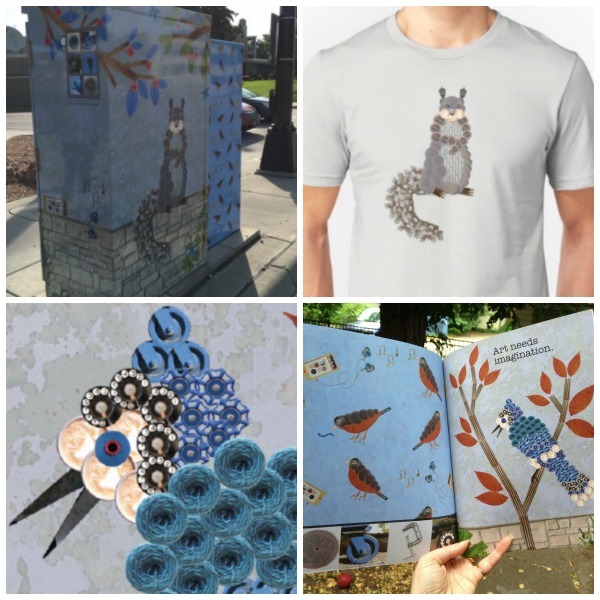 The photos above show a great example of this. I designed the art to cover six utility boxes for a neighborhood art project. I used the same artwork to make a book (Blurb) and postcards (GotPrint) to go along with the project. For the opening "reception" walking tour of the boxes, I made fabric for a dress (Spoonflower) to match the book cover and printed a squirrel t-shirt (RedBubble) for my husband to wear. The settings were a little different for each thing, but I just had to make small tweaks to use the designs many different ways.

Why is Spoonflower so cool?
Take a minute and pop over to Spoonflower in another browser tab. Type "corgi" in the search box.
How many corgi designs would you find if you walked in to your local fabric store this afternoon? One? I got 14 pages of corgi designs when I searched on Spoonflower. I did another search and found 4 pages of "sushi" designs. There are even 5 designs that combine corgis with sushi. (Shout out to designer petfriendly for those.)
Not only can you find anything, you can design anything. There is no marketing team or art department hanging over your shoulder. If you want pink kitty mermaids, oboes, or Hereford cows with sunglasses, then you can design it. On one of my first visits to Spoonflower, I looked through the windows of the print room and saw watercolor flowers, anchors, Klingon bat'leths and kid-sized super hero undies all printing at the same time on four different printers. That's awesome.
What we will cover in Spoonflower Step One Class?
In the next lessons we will go through creating a simple design using everyday materials. We'll walk through scanning it and uploading it to Spoonflower. We'll look at all of the options you have once it's uploaded. Then we'll go on to talk about how you proof a design, how to troubleshoot and make tweaks, and how to make it for sale (or not). By the time we get done, you'll be ready to make your own designs with confidence. So let's get started!
Complete and Continue